Note: Vault Training is a separate product that is part of the Quality and QualityOne application family. You must use QualityDocs or QualityOne in order to use Vault Training. Contact your Veeva representative for more information.
Vault Training manages role-based qualification and training to support job and audit readiness while demonstrating compliance. It gives companies the tools necessary to deliver the right content to the right learners. As part of the Quality Suite of applications, content development, changes and delivery, and role readiness become a seamless, continuous lifecycle.
Vault Training allows the configuration and maintenance of a training matrix, which includes Learner Roles, Curricula, and Training Requirements. Changes to the training matrix automatically push Training Assignment records and workflow tasks to users for completion. Additionally, document revisions you perform in QualityDocs can trigger assignment of workflow tasks to users.
Vault Training Objects
Vault Training introduces four (4) core objects:
Learner Roles are functional roles or job roles associated with a Person object. For example, Jim may be assigned the Solid Dosage Specialist learner role, as he needs to be trained for this area at his company.
Curricula records represent the training requirements needed to complete a certain curriculum. Learners may need to complete one or several curricula to fulfill the qualifications of a learner role, depending on their company's training model.
Training Requirements are the individual content that makes up a curriculum. Learners must satisfy all requirements to complete a curriculum.
Training Assignments are what learners interact with. These can be tasks such as reading documents and completing workflows or quizzes.
Here is an example of how you may set up a training model: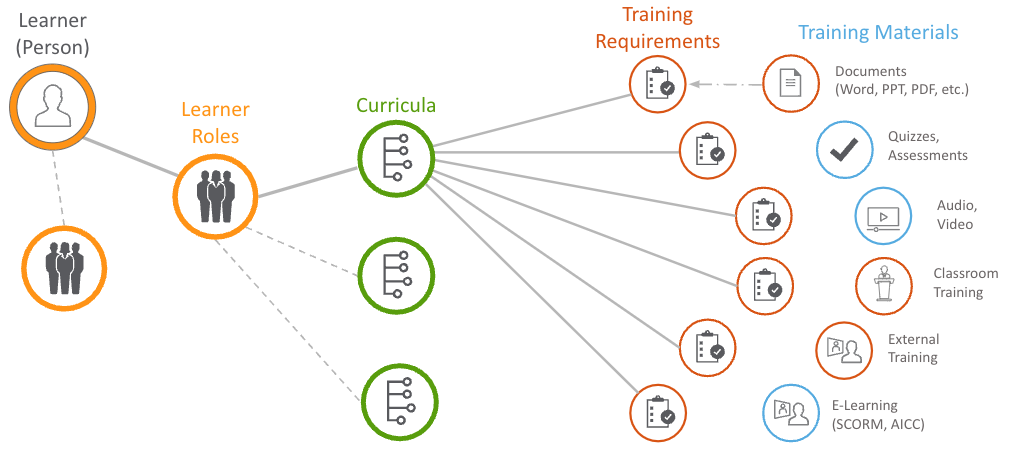 In this example, the learner is assigned a learner role that is associated with two (2) curricula. The curricula themselves are comprised of several different training requirements. Vault checks the lifecycle state of each object record and, if all are in eligible states, issues a training assignment to the learner for each requirement. For this example, Vault assigns the user seven (7) total training assignments.
Vault Training Features
Vault Training is built using Vault, so it shares all of the features and functionality of the platform product. In addition to those features, Vault Training has: