Veeva Vault QMS is an application that manages global quality processes across an organization and its external partners.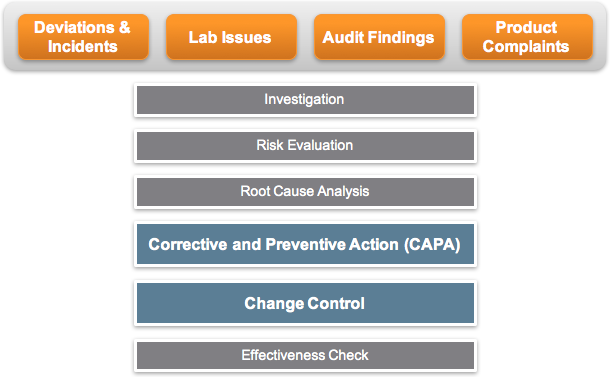 Vault QMS Features
Vault QMS is built on the Vault platform and therefore has the features that are described in the platform help topics. In addition, it includes these capabilities specific to the management of global quality processes:
Quality Lifecycles, Workflows, and Object Model: Vault QMS supports deployment of Deviation, Internal and External Audit, Complaint, Lab Investigation, Change Control, and CAPA processes via delivered lifecycles, workflows, and data model that reflect latest industry practices.
Audit Trails: Vault QMS demonstrates compliance with detailed audit trails capturing important events including execution of a signature, process state changes, task creation and assignment, and more.
Supplier access and visibility: Vault QMS provides access to suppliers and contract manufacturers, giving them visibility into key quality processes.
Quality reporting and dashboards: Vault QMS tracks and visualizes quality management operations by combining related metadata across objects, such as Deviations, Investigations, Root Causes, CAPAs, Change Controls, and more.
Entry Criteria for Related Documents: This feature allows you to require documents related to a specific object record to be in specific state types (Ready for DCC Approval, Effective, Obsolete, etc.) before the object record can move into the destination state.
Effectiveness Check Automation: This feature automates the creation and processing of Effectiveness Check records. The Create Effectiveness Check record entry action is available for the Quality Event, CAPA Action, Change Control, Change Plan, Deviation, Finding, and Continuous Improvement object lifecycles. To take full advantage of this feature, you can model configurations to automate the business process around completing changes or actions within the QMS.
Quality Teams: With this feature, you can manage structured teams of individual users that are responsible for completing specific processes within your Vault.
Quality Risk Management (QRM): Manage the risk associated with enterprise and operational processes in your Vault using risk matrices and risk registers. Create Assessments and Risks using the Risk Builder tool and generate heat map visualizations.
Audit Program Planning: Using the Audit Program object, you can initiate, plan, and approve audit programs for execution for a determined time period. Once the Audit Program record enters a specified state, Vault automatically creates Audit object records based on Proposed Audit record data within the Audit Program. Using the configurable Create Proposed Audits user action, Vault can automatically create associated Proposed Audit records based on the Planned Start Date and Planned End Date of the Audit Program.
External Response Collaboration: Automates temporary External User account provisioning for partners to respond to applicable events, CAPAs, or SCARs. Vault users identify Persons to assign external findings or requests to, and Vault can invite or uninvite these persons to or from your Vault automatically at specific lifecycle states within a record's lifecycle.
Relationship Automation for Quality Objects: Creates two-way relationships between records of Quality Events, Audits, CAPAs, Change Controls, Change Plans, Deviations, Findings, or Continuous Improvements. With optionally defined relationship natures, users can easily see the origin of the relationship.
Generate Quality Document from Object Record Action: Allows administrators to configure user actions or entry actions which create a document based on data in an object record. These documents are created from Formatted Output templates, document templates, or reports, allowing complex configurations and data from multiple related records to be brought into the generated document. Documents created by this function inherit Vault Document metadata from the starting record, are added to the Library, and are linked to the record from which they were generated.
Record Checks: An intelligent and streamlined interface for users to determine whether an event or Complaint is a recurrence, duplicate, or follow-up of another such record. With this feature configured, Vault can simplify a complex manual process with a simple user action where text search terms are automatically suggested by Vault.
Cycle Time Metrics: Capture reportable data on cycle times and closure deltas from due dates on supported object types.
Related Record Automation: Uses Related Record Configurations to automate the creation of full records or placeholder records based on the lifecycle progress of another record.
APQR/QMR: Supports management of APQR and QMR processes. The Annual Product Quality Review (APQR) process is an annual evaluation of the quality standard of a drug product to determine the need for adjustments in drug product specifications, manufacturing, and control procedures. The Quality Management Review (QMR) process is an evaluation of the effectiveness and suitability of a quality system.
Supplier Change Notification Automation: Automatically creates Supplier Change Notification object records using a standard Vault email processor. Stores follow-up emails and attachments in a single record repository.
5 Whys Analysis: Allows users to perform and document a 5 Whys Analysis, as a tool to assist in determining the root cause of an event or Complaint.
Quality Incidents: The Quality Incident object and lifecycle allows your organization to triage an incident to determine if it is necessary to initiate a quality event. This avoids skewing quality event metrics, and unnecessarily complicating audits.
Auditor Profiles & Qualifications: Vault QMS can capture key demographic information about auditors, and manage the variety of qualifications that may be required for an auditor to perform any given role on various types of audits. With this solution, auditors can even be automatically given security rights or access across the Vault as they complete their qualifications. This addresses scenarios where it can be difficult to know which personnel are authorized to perform a role on an audit.
Standard Connections
Quality to RIM Vault Connection: Change Control & Variation Management
This connection between a Quality QMS Vault and a RIM Registrations Vault automates data sharing between the two applications, supporting change control initiation, regulatory assessment, and close out. See details about the Quality to RIM Vault Connection.
Quality to Clinical Operations: Study Transfer
Organizations using both a Clinical Operations Vault and a Quality Vault can utilize a connection between the two Vaults to automatically transfer Study data from Clinical Operations to Quality. This connection transfers Study, Study Country, and Study Site information across Vaults.